You find yourself in a forest, surrounded by trees and thick brush with no edge in sight. The air is humid but cool, and you can smell flowers as you walk along. Trees as tall as buildings block much of your view of the sky, so you must walk down the path ahead of you. As you walk along the path you see a clearing with a colorful creature standing on a tree stump.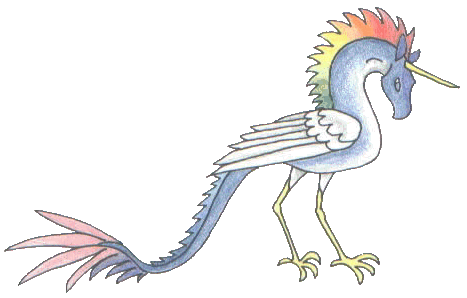 Hi, welcome to the forest...my name is Swansong. I came here from a faraway forest. Many other creatures moved here too, after humans started invading the forest... but you're not like those evil humans, are you? I like it here, it's nice... would you like to meet some of the creatures? They like to play out here in the clearing.
Swansong hops of the stump and follows the path through the soft green grass, to a part of the clearing with a fallen tree on the ground. You follow them and Swansong knocks on the end of the fell tree. Shortly after, you hear scuffling coming from inside the hollow tree, and two creatures stick their heads of either end: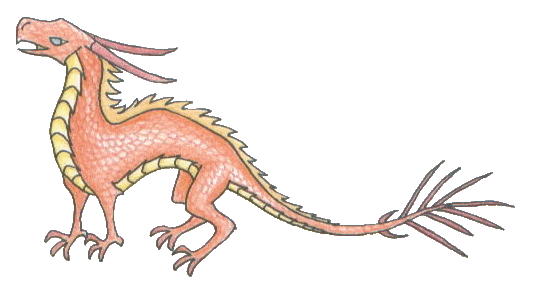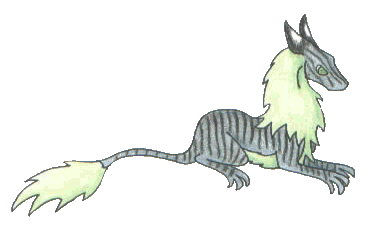 The little red dragon says:
Huh, what's up? Oh, you're a human! Haven't seen one of you in a while, haha! What are you doing here, are you lost? Just wandering around? Well I bet I could show you something interesting...like my fangs! ...Just kidding. What's really intersting is the bigger dragons in the cave hideout...or they've been calling it the Dragon Den!
The fuzzy little creature (a freyla) on the other side speaks softly:
Oh, uh, I don't know Peppers...some of your dragon friends are kinda scary! I mean, they're not mean or anything, just so big..! Erm, maybe we could go to the lake instead? It's real pretty there, and there's lots of berries...
The freyla points to a fork in the path ahead and you think about which way to go. The little dragon could take you down the left path to the dragon's den and probably meet some very big dragons, or you can go down the right path towards the lake.
← Left

Note: I found these creatures myself in

, please do not take them from here! Visit the original site to find your own new friends. :)