Welcome to my site!
You have landed on the index of Radiant Worlds! This is my personal website for learning HTML, my hobbies and what have you. Thanks for visiting!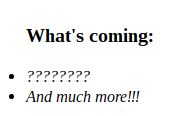 Updates

August 2020 - Oh boy. It's time for an update, but it's mostly little things. Can you spot them?
Hello 2020! Many small updates.
December 2019 - Links and character pages updated.
October 2019 - Gallery was updated! Hawsey and more pages updated!
July 2019 - Many links added! Other small updates.
June 2019 - Raizane and Fulvina pages added!
April 2019 - More big changes. The site looks more like how I want it to look and feel.
July 2018 - Layout fixes, bestiary pages.
December 2017 - Over 10 new pages!
November 2017 - Layout changes.
September 2017 - Bestiary pages introduced!
May 2017 - New character pages.
January 2017 - New art and pages.
August 2016 - Moved to Neocities! Hooray!