Welcome to my site!
You have landed on the index of Radiant Worlds! This is my personal website for learning HTML and other such things. Thanks for visiting!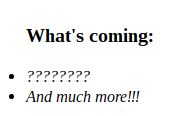 Updates

February 2022 - Dragon shrine page finally added! Yay!
January 2022 - Happy new year! Art updated, links added yeah!
November 2021 - Just checking in...some typos were fixed
April 2021 - Woah! ANOTHER new layout, now from scratch! Site wide updates! Hey, try hovering on some images! :)
August 2020 - Oh boy. It's time for an update, but it's mostly little things.
January 2020 - Many small updates.
October 2019 - Gallery was updated! Hawsey and more pages updated!
July 2019 - Many links added!
July 2018 - Lots of bestiary pages added!
December 2017 - Over 10 new pages!
September 2017 - Bestiary pages introduced!


August 2016 - Moved to Neocities! Hooray!