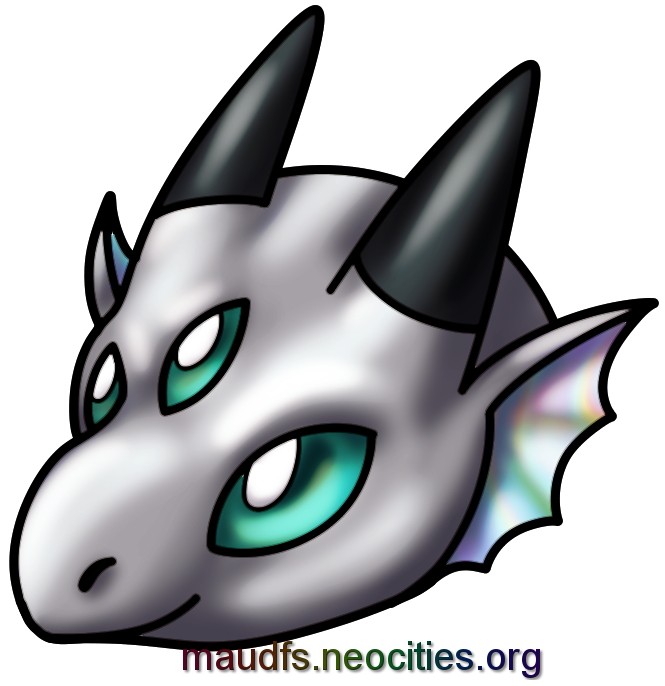 Lucid
Physical Information
SPECIES: Sea Dragon

GENDER: Female (she/her)

AGE: Adult (November 11th)

SIZE: 36' long - ~850lbs.

HABITAT: Ocean

DIET: Piscivore

DESCRIPTION: Silvery scales with black horns and belly and holographic/iridescent webbing on ears, wrists, ankles, wings, tail fin and tail end. Seagreen eyes with a third eye (parietal eye) centered above them.

Personality
FLAVOR TEXT: Calm, thoughtful. Her particular hoard is mainly of knowledge regarding consciousness, sleep, dreaming, and lucidity. She likes pearls and oysters too though. She can only fly about as well as a flying fish.

ALIGNMENT: Neutral Good

LIKES: Sleeping, dreaming, swimming, reading, the studies of the brain, sleep and consciousness.

DISLIKES: Insomnia, drying out, lethargy, bitter taste.

DREAM: see-through

THEME MUSIC: Dragon Seeds - Memory Forest | Eurythmics - Sweet Dreams (Are Made Of This) | PMD Time and Darkness - Surrounded Sea

Battle Stats
TYPE:
STATS: +Speed +Special -Attack

MOVES: Tail slam, Bubble, Surf, Hypnosis

ABILITIES: Swimming and diving

WEAKNESS: Dehydration, slow on land

Other
PLACE OF ORIGIN: Coros, East Ocean

PEDIGREE: N/A

OCCUPATION: N/A

HISTORY: Created on November 11th, 2018 by MaudFS.

INSPIRATION: Leviathan, Holofoil, Lucid dreams

MISC: N/A

Image Gallery