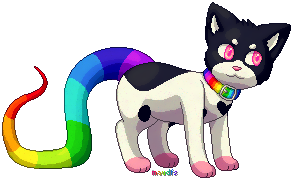 Charm
Physical Information
SPECIES: Pseudotail

GENDER: Female (she/her)

AGE: Baby (October 24th)

SIZE: Small

HABITAT: Domestic

DIET: Omnivore

DESCRIPTION: A black and white cat-like creature with a small heart shaped marking on the chest. Pink eyes, nose and paws. Attached to the rear is a rainbow colored, snake-like tail.

Personality
FLAVOR TEXT: Calm, likes to relax.

ALIGNMENT: Neutral

LIKES: Collecting trinkets, taking naps, breezy weather.

DISLIKES: Getting the collar dirty, losing things.

DREAM: venomoid

THEME MUSIC: N/A

Battle Stats
TYPE:
STATS: +Speed

MOVES: Dazzling Gleam, Dragon Tail, Baby-doll eyes

ABILITIES: Jewelry cleaning

WEAKNESS: N/A

Other
PLACE OF ORIGIN: Pixpet Realm

PEDIGREE: N/A

OCCUPATION: N/A

HISTORY: Created by Lycan October 24th, 2019

INSPIRATION: N/A

MISC: N/A

Image Gallery